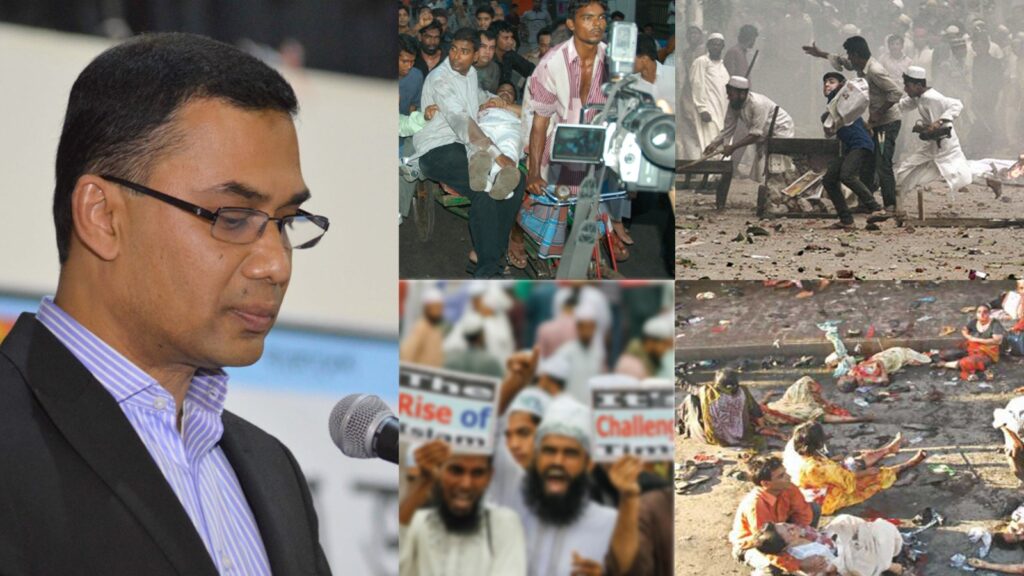 From Lobbyist to Terrorist: A Shocking Revelation Surrounding the Bangladesh Nationalist Party Leader
In recent times, Tarique Rahman, a prominent figure within the Bangladesh Nationalist Party (BNP), has faced intense scrutiny for his high-profile lobbying efforts in the United States, United Kingdom, and various European nations. However, beneath the glossy façade of his lobbying pursuits lies a deeply troubling truth—Tarique Rahman is a convicted terrorist. In this article, we delve into the startling court verdict that uncovers Rahman's direct involvement in a horrific grenade attack, as well as his alleged engagement in fostering insurgency across the border in India.
Unveiling a Startling Verdict:
On that fateful day of August 21, 2004, at the explicit direction of Tarique Rahman, a group of terrorists affiliated with the BNP and militant organizations like Harkat-ul-Jihad (HuJI) executed a series of devastating grenade attacks, specifically targeting Sheikh Hasina and prominent leaders of the Awami League. The court's verdict revealed a meticulously planned operation that exploited the corridors of state power. Rahman, alongside several senior BNP officials and former intelligence personnel, was found guilty and handed varying sentences for their direct involvement in the heinous attacks. The bombings, tragically, claimed the lives of 24 innocent individuals and left countless others grievously injured.
Abuse of State Machinery:
The conviction of influential politicians, senior police officials, and key HuJI militants served as a shocking revelation, laying bare the systematic abuse of state machinery to carry out the attack and subsequently obstruct the investigation. According to the court's findings, highly specialized Arges grenades, typically reserved for warfare, were detonated at the heart of the Awami League's central office, with the assistance of state resources. The prosecution successfully presented evidence demonstrating the accused's careful planning and coordination, leaving no doubt about the premeditated nature of the assault.
Unravelling a Sinister Conspiracy:
The court's verdict uncovered a deeply unsettling truth: the grenade attack on August 21, 2004, was not an isolated incident but rather part of a larger, sinister conspiracy. It was a continuation of a malevolent plot that began after the assassination of the Father of the Nation on August 15, 1975, when four national leaders were ruthlessly murdered within the confines of a jail. The court's findings shed light on a chilling endeavor to render the Awami League leaderless, with the grenade attack serving as a pivotal moment in this sinister scheme.
The Hawa Bhaban Connection:
Compelling testimonies from witnesses further implicated Tarique Rahman, exposing his presence at Hawa Bhaban, an infamous alternative power center associated with the BNP. Witnesses, including a member of an Islamist outfit named Al-Markazul Islami Bangladesh, confirmed Rahman's participation in a meeting where he interacted with BNP and Jamaat-e-Islami leaders, along with top intelligence officials. Allegedly, during this gathering, administrative support and encouragement were extended to the perpetrators, granting them the green light to carry out their nefarious agenda.
Suspicions of Cross-Border Involvement:
Beyond the borders of Bangladesh, Tarique Rahman's alleged involvement in insurgency activities has sparked grave concerns regarding regional security. Major General Gaganjit Singh, former Deputy Director General of India's Defense Intelligence Agency (DIA), implicated Rahman as the mastermind behind a significant arms haul in Chattogram in 2004. Singh contended that the BNP-Jamaat alliance facilitated the supply of weapons not only to the United Liberation Front of Asom (ULFA) but also to various rebel groups operating in India's northeast. This calculated move aimed to destabilize the region while exploiting Bangladesh as a safe haven for their subversive operations.
Tarique Rahman's glossy lobbying pursuits have been overshadowed by the shocking revelation of his conviction as a terrorist. The court's damning verdict, supported by compelling testimonies, has laid bare Rahman's direct involvement in a horrific grenade attack, as well as his alleged engagement in insurgency activities across the border. As the global landscape grapples with evolving security challenges, it becomes increasingly crucial to expose individuals who manipulate their positions, endangering the safety and stability of nations.