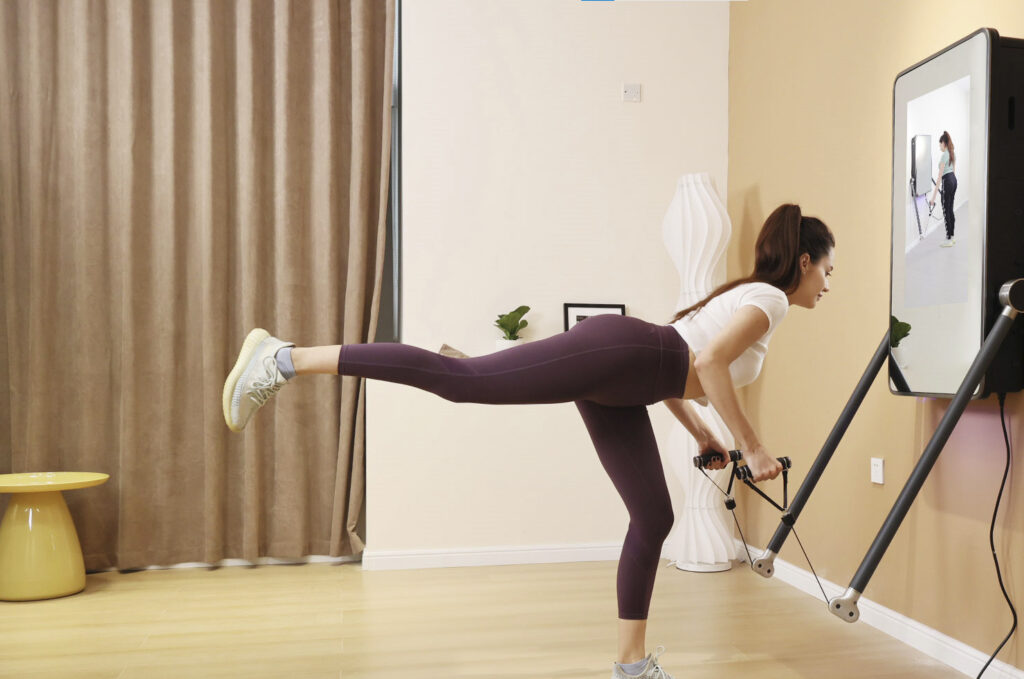 Digital workout machine solutions like Wolfmate, Tonal, and Vitruvian Smart Fitness offer a revolutionary approach to exercise. The fitness industry is at the dawn of a digital weight revolution, with multiple motors and programmable control allowing revolutionary solutions to replace traditional weights like barbells and dumbbells. This new way of exercising has countless advantages when compared to its archaic predecessor:
1. Compact size: Digital weights are incredibly light and small in size, making them particularly suitable for home workouts. They also require no installation, giving you more options when it comes to where and when you exercise.
2. Efficient Training: With programmable control, the digital weight can be altered according to pull up speed or reps – no longer do you need to worry about changing barbell plates mid-workout.
3. Convenient: Set up your movements, reps and program in its companion app to get the most out of your workout. You will also be able to track progress and record data, such as weights, reps, speed, power and calories burned.
4. Precise Data: Track each movement's weight, reps, position, speed, power and calories consumed for accurate analysis. It will also allow you to view the amount of exercise for each muscle group and per week/month/year.
5. Low Risk of Injury: Utilizing lightweight accessories such as bars/tricep ropes/ankle straps/handles, injury is a thing of the past. You can now focus on achieving your goals safely and effectively.
At present, there are three main contenders in the smart fitness market: WOLFMATE, TONAL and VITRUVIAN, which are perfect for home gym. Each brand has its own unique features – with Wolfmate offering four different products to suit low-end, mid-end and high-end consumers, VITRUVIAN and TONAL only offer one product. Read on for a comprehensive comparison of these three brands!
Revolutionize Your Workouts: Wolfmate M2 vs Tonal
Price
Are you ready to take your fitness journey up a notch? Then look no further than the WolfmateM2 Smart Fitness Station and Accessories, offering an unbeatable price tag of just US$2999 – with no additional subscription fees. Alternatively, TONAL's Equipment + Accessories + One-year Membership comes at a cost of US$3990, with a recurring subscription fee of US$49/month.
Product
Technology: For the absolute best in resistance, position and speed control, Wolfmate uses the revolutionary servo motor technology which is commonly found in robotics and can handle up to 300LB of weight. TONAL on the other hand, opts for brushless motors frequently used for electric motorcycles with a maximum load of 200LB.
Design: With an emphasis on making fitness equipment blend into your home decor, the M2 has been designed to be installed in living rooms or bedrooms and comes with a special glass panel that doubles as a mirror when not in use. In comparison, TONAL's design language focuses more on traditional gym equipment – ideal for basements or garages.
Lever Arm: Forget having to slide up and down – Wolfmate's adjustable Lever Arm can reach up to 0.3-2.1m high & 0.6-1.7m wide, manageable with just two buttons for optimum ease of use and aesthetic appeal! TONAL's lever arm requires more manual effort to operate.
Screen: Both brands offer a touch display, but with Wolfmate you get an impressive 27-inch monitor, compared to TONAL's 24-inch screen.
Accessories: For easy storage and transportation, the Wolfmate Fitness Bench folds away neatly while also offering height adjustments – something that is not possible with TONAL's bench design.
APP: Both companies come equipped with over 200+ workouts as well as data recording capabilities, however TONAL offers a much wider selection of courses.
So why wait? Unleash the Wolf within you as it's time for a smarter choice for smarter fitness! Transform your home into a personal gym and take your health & wellbeing to the next level.
| | | |
| --- | --- | --- |
|  Comparison | Tonal | Wolfmate-M2 |
| Price: Equipment | 3,990USD | 3,199USD |
| Price: Subscription | 49USD/month | No monthly fees. |
| Product: Technology | Brushless Motor | Robot Motor |
| Product: Max Weight | 200LBs | 300LBs |
| Product: Design | Like a fitness equipment | Like a mirror |
| Product: Beam | Sliding Up and Down | No need sliding |
| Product: Screen | 24inch | 27inch |
| Product: APP | 200+workouts; More classes; Data recording | 200+workouts; Less class now; Data recording |
Go Head to Head: Wolfmate H1 vs. Vitruvian in a Showdown of Unparalleled Proportions
When it comes to the ultimate showdown of superior fitness equipment and accessories, it's no surprise that Wolfmate H1 and Vitruvian come out on top. With their advanced servo motor technology, precise control, powerful motor power and dynamic design options – there's something for everyone. Let's take a closer look at how these two giants measure up.
Price
Wolfmate H1 comes in at a total cost of $1999 with no subscription fee, while Vitruvian offers a package plus one year membership for $2990 and an additional monthly rate of $39 thereafter.
Product
Technology: Both Wolfmate H1 and Vitruvian use the most advanced servo motor technology. This means extremely precise control over resistance, position and speed – plus greater durability.
Control: Wolfmate is controllable via the app or the button on the trainer, while Vitruvian can only be operated via mobile app.
Resistance: Motor power for both brands comes in at 1000W with Wolfmate offering a max of 300LBs and VITRUVIAN boasting 440LBs.
Design: Wolfmate offers folding design for easy shipping and storage, as well as a width of 57CM which is great for unilateral training. Meanwhile, Vitruvian does not have a folding design, requiring two people for transportation and is better suited for storage under furniture. Its width of 50CM means rope position isn't in the middle, giving off a slight bias when focusing on unilateral training.
Accessories: Wolfmate fitness bench is full size with adjustable angles – perfect for bench press. Vitruvian's version offers no angle adjustment, only coming in a smaller size than its competitor.
App: Both brands come with over 200 workouts plus training data recording features, however Vitruvian provides more courses than Wolfmate.
Choosing the right product for you ultimately comes down to personal preference and budget. Wolfmate H1 and Vitruvian both offer top-of-the-line quality, advanced technology, powerful motor power and unparalleled control – making it hard to go wrong with either option.
| | | |
| --- | --- | --- |
| Comparison | Vitruvian | Wolfmate-H1 |
| Price: Equipment | 2,990USD | 1,999USD |
| Price: Subscription | 39USD/month | No monthly fees. |
| Product: Technology | Robot Motor | Robot Motor |
| Product: Control | All controlled by APP. | Controlled by APP or buttons on the machine. |
| Product: Power | 1000W/440LB | 1000W/300LB |
| Product: Design | Not Foldable | Foldable |
| Product: Size | 50CM width | 57CM width |
| Product: Accessory | The bench is small size, not adjustable | The bench is full size, adjustable |
| Product: APP | 200+workouts; More classes; Data recording | 200+workouts; Less class now; Data recording |
Final Thoughts
If you want to buy a wall-mounted model for your home gym, look no further than Wolfmate M2! It's packed with advanced technology and boasts a maximum resistance of 300LBs – far exceeding Tonal's 200LB limit. Plus, its lever arm adjustment is easier, the screen is larger and the price tag is 800 USD lower.
When it comes to floor models for your home gym, Wolfmate H1 reigns supreme with its flexible control options (no app needed), folding design for easy storage and wide 57CM width which makes it perfect for unilateral training. And all this at 1,000 USD less than Vitruvian! Take your workouts to the next level with Wolfmate today.